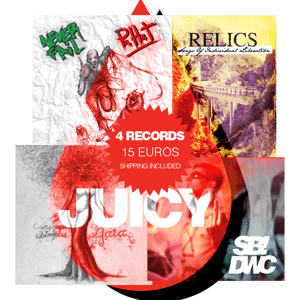 €

15.00 - On Sale
This is a bundle pack that includes all 4 releases that we did on 2010. 2 vinyls, 1 tape, 1 CD, from 6 different bands...with this pack you save more than 6 euros, and you help us out clearing stock and getting some financial stability for the next releases.
4 Records, 15€, shipping included.
Este é um bundle pack que inclui todos os 4 lançamentos que fizemos em 2010. 2 vinis, uma cassete, 1 CD, de 6 bandas diferentes...com este pack poupas mais de 6 euros, e ajudas-nos a escoar stock e a recuperar alguma estabilidade financeira para as próximas edições.
COLORWAYS OF THE RECORDS ON THE PACK:
JR #01: Black
JR #02: Red
JR #03: Orange
JR #04: Black